Community Connection
The Law Offices of Frank F. Daily is committed to community outreach. Each year around the holiday season the entire firm participates as a team in an effort to support a local charity.
The firm supported the House of Ruth and Cystic Fibrosis Foundation in 2019.
In December 2015 - 2018, our office adopted a family from West Baltimore for the holidays. The family, a single mom and two young teenagers with disabilities, has struggled with health and financial issues. The family connected with our office through one of our attorneys, who met them while working at a non-profit serving people with disabilities in Baltimore City. We surprised them with clothing, household supplies, as well as some fun gifts.
During the holiday season, the firm has previously supported TurnAround, Inc. an organization committed to building a community free of violence by servicing victims of sexual assault and domestic violence in Baltimore County.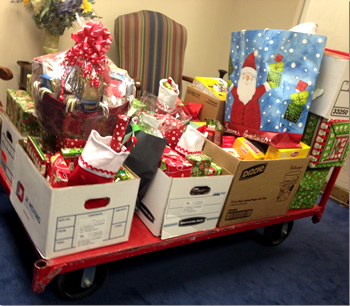 The Law Offices of Frank F. Daily is pleased to support
local families during the holiday season.
Below is a complete list of charities that the firm is happy to support.
American Diabetes Association
Bar Association of Baltimore City
Bar Foundation (holiday party for homeless children)
Baltimore County Bar Association
Boys Hope Girls Hope
Catholic Charities
Cystic Fibrosis Foundation
Hopewell Cancer Support
JDRF
Lawyers' Campaign Against Hunger
Maryland Legal Services
Maryland Volunteer Lawyers Service
Oral Cancer Foundation
Pro Bono Resource Center
St. Jude's
St. Mary of the Assumption Parish
The Red Devils
Wounded Warrior Project